Books
Books in order from newest to oldest.  These are brief overviews, please follow the links or click the book image for in-depth descriptions and page previews. The best place to buy these books is your local book/comics store, or direct from the publisher or a comics distro. Koyama Press has many good suggestions. Digital versions are available through Sequential and ComixOlogy. Foreign edition and wholesale links at the bottom. Original art and other merch like prints, mugs & shirts available here.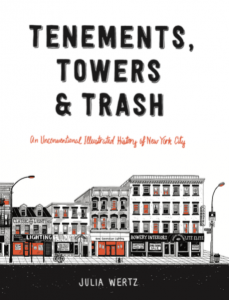 Tenements, Towers & Trash: An Unconventional Illustrated History of New York City. Coming October 2017 from Black Dog & Leventhal/Hachette. Samples at the New Yorker and Harper's. Pre-order now on Amazon, Barnes and Noble or IndieBound.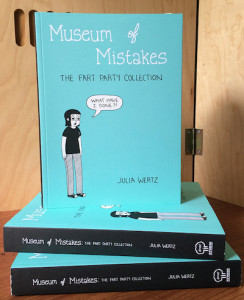 Museum of Mistakes: The Fart Party Collection. Published by Atomic Books, 2014. info and samples.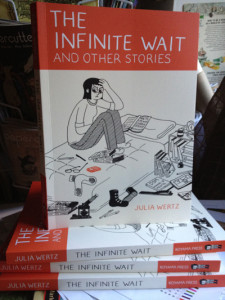 The Infinite Wait & Other Stories: Published by Koyama Press, 2012.  Read more info and samples.
Drinking at the Movies:  originally released in 2010 from Random House, redesigned/re-released from Koyama Press in 2016.  Sample pages.
The Fart Party Vol 1 and Vol 2: Published by Atomic Books in 2007 & 2009. Vol 1 Info and samples, vol 2 info and samples. (These books are permanently out of print, but are collected in Museum of Mistakes)
Wholesale orders:
Drinking at the Movies and The Infinite Wait: Koyama Press 
Museum of Mistakes: Rachel Whang rachel(at)atomicbooks(dot)com or call 1.410.662.4444
Tenements, Towers & Trash (oct. 2017) info(at)blackdogandleventhal(dot)com
Foreign editions:
Drinking at the Movies: French: L'Agrume. Portuguese: Nemo. Korean: Hansmedia. Spanish: AlterComics
the Infinite Wait: French- L'Agrume