The Fart Party, Vol 1 (Atomic Books 2007). This edition is forever out of print but can be seen in in full in Museum of Mistakes: The Fart Party Collection, which you can buy  directly from me. All books come signed/doodled with various choices of extras like prints and hand drawn panels.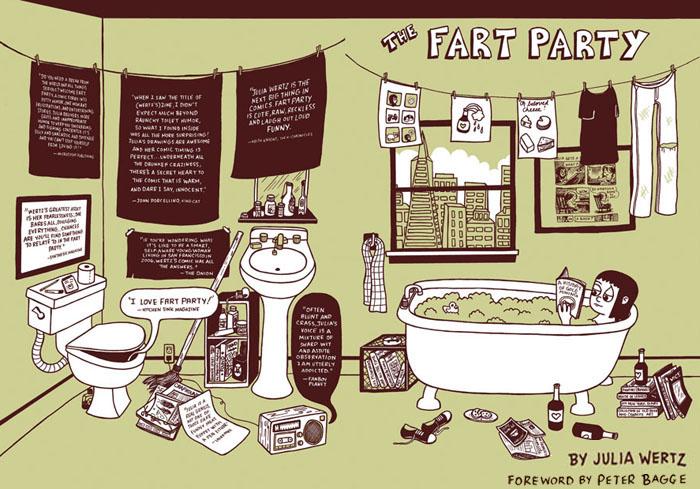 The Fart Party Vol 1 is my first collection of comics, published by Atomic Books in 2007. It includes stories about my childhood, a relationships beginning, middle and end, living in San Francisco, my (current) love of cheese and (past) love of booze, getting dumped, being a jackass, etc…all the stuff the kids get up to in their early 20's, plus a longer comic by my older brother about my unfortunate high school Gn'R obsession. Foreword by Peter Bagge. (Disclaimer: Disclaimer: This book is super old and made back when certain words were not considered derogatory, like retard and fag, so I apologize for any offensive language used within.)
Disclaimer: the comics in this book where made without the intent of ever publishing or telling a coherent story because I didn't know at that time that comics would become a huge part of my life, and because of that, it's my favorite of my books. However, also because of that, it's in no way meant to be read as full disclosure of the events of my life during that time.
Some things people said about it:
Julia Wertz is the next big thing in comics. Fart Party is cute, raw, reckless and laugh out loud funny. -Keith Knight
[the Fart Party] is for anyone interested in the female version of Seinfeld in comic-book form. If you're wondering what it's like to be a smart, self aware young woman living in San Francsico in 2006, Wertz'zs comic has all the answers. -The Onion
When I saw the title of Wertz's zine, I didn't expect much beyond raunchy toilet humor, so what I found inside was all that more surprising! Julia's drawings are awesome and her comic timing is perfect…underneath the craziness, there's a secret heart to the comic that is warm, and dare I say, innocent. -John Porcellino
Here are some samples, and if you like em, buy the full collection this September!