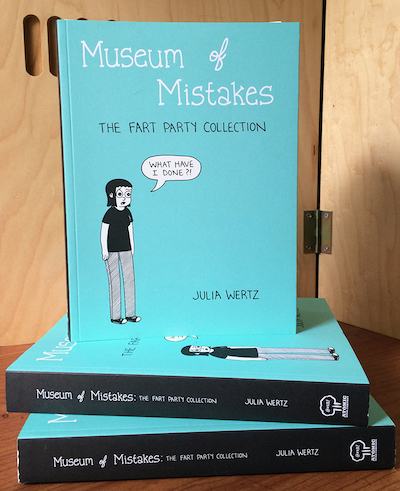 ABOUT: Museum of Mistakes: The Fart Party Collection is a 400 page omnibus of my early comics (published by Atomic Books in 2014) including The Fart Party Vol 1 & 2 as well over 150 pages of previously unpublished material, some of which ostensibly would have been Fart Party Vol 3, had I done a third volume. Some of the "new" materials has appeared online, in newspapers, zines or magazines and some have appeared nowhere, but none of which have been printed in books. There is also a full color section of my earliest early work, meaning before I created the Fart Party style, as well as a process section, funny/mean fan letters and answers, collaboration pieces, random illustrations and short story comics.
Here are some things people said about the book:
Julia Wertz's Museum of Mistakes displays a magnificent collection of laffs, gags and profound profundity. Well worth the price of admission! –Carol Tyler
Julia Wertz is the funniest, most unique voice in comics right now.  Not picking up this book would be a huge fucking mistake. – Brian K. Vaughan 
There is adventure and persistence and charm in Julia's face slapping stories. These comics look cute and nice, but they aren't– they are interesting and convey life throes very well. –Gary Panter
As far as I'm concerned, Julia Wertz has accomplished the impossible—straight out of the gate, she joined a small handful of cartoonists whose work I must own in its entirety and for which I'm willing to pay FULL RETAIL. *Joe Matt *he did not, I gave him a free book
Like the best work of the slacker era, the Fart Party communicates the joyous underbelly of an underwhelming existence. –Douglas Rushkoff
Fart Party is friggin' hilarious. –New York Magazine
If you're wondering what it's like to be a smart, self aware young woman…Wertz's comic has all the answers. –The Onion. See note below.
I was given the opportunity to run Fart Party in The Onion. I regret my decision not to do so. –Joe Garden*, The Onion. 
Why aren't there any fart jokes in here? I feel cheated. –Some turd on the internet